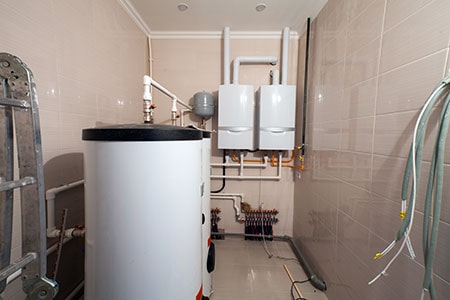 There is no denying that, at a certain point, your home will likely require a new water heater. The water heater you choose will require certain components and requirements that best suit your specific home's needs. At W.H. Winegar & Son Plumbing and Heating, we make your comfort our top priority. We hope all our customers are comfortable in their homes — which is why we are always here to help them select the perfect hot water heater for their homes to best meet their specific and unique needs.
We can install and repair hot water heaters. At W.H. Winegar & Son Plumbing and Heating, our professionals make sure to help guide you through the entire decision-making process to select the best water heater for your property.
Finding The Perfect Water Heater
Your home will require a certain type of water heater to meet all your specific needs. When selecting your new water heater, it is important to consider the power of your fuel source and the size of your home. We at W.H. Winegar & Son Plumbing and Heating are here to help you select the best type of water heater that will suit your needs and optimize the functionality and comfort of your home.
Contact Us Today
If you are seeking some plumbing or heating repairs, replacements, or other solutions, look no further than W.H. Winegar & Son Plumbing and Heating to solve all your precarious problems effectively and efficiently. In fact, with decades worth of experience in the industry, our leading professionals are guaranteed to swiftly find epic solutions to all your plumbing and heating problems. Give us a call today to inquire about how we can help you!