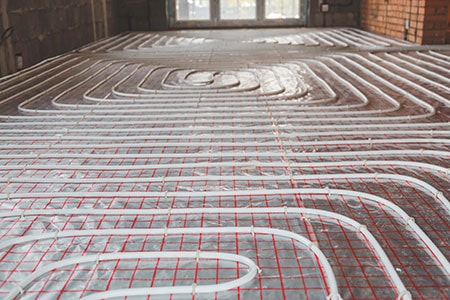 Radiant floor heating is an attractive addition to any home. Radiant systems are usually invisible to the common eye and heat the floor from underneath for increased comfort. At W.H. Winegar & Son Plumbing and Heating, we can install a hot water radiant floor heating system in your home to help you enjoy this modern new source of home heating.
Perks Of Underfloor Systems
Overall, there are several benefits associated with radiant heated floors. Most importantly, these systems tend to be incredibly energy-efficient, which makes them desirable among many different homeowners. When you install radiant floor heating, you provide your home with a continuous supply of warmth that rises up through your floors for complete room comfort throughout the year.
Contact Us Today
If you are seeking some plumbing or heating repairs, replacements, or other solutions, look no further than W.H. Winegar & Son Plumbing and Heating to solve all your precarious problems effectively and efficiently. In fact, with decades worth of experience in the industry, our leading professionals are guaranteed to swiftly find epic solutions to all your plumbing and heating problems. Give us a call today to inquire about how we can help you!