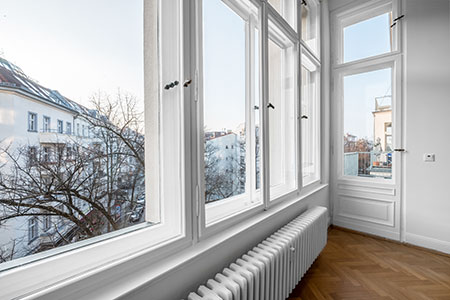 Radiators and baseboard heaters are two efficient ways to provide heat to individual rooms in practical and durable ways.
Radiator Heat
Radiators generate heat by transferring thermal energy to the home from one medium to another. When using radiator heat, hot water traveling through pipes to cast-iron radiators produces heat that gathers in your home to provide warmth and comfort. This relatively traditional home heating method tends to be more common in larger cities and older buildings.
Baseboard Heating
Baseboard heaters are often a great method for efficiently providing heat throughout your home. Baseboard heating is designed to effectively spread heat throughout your home. Baseboard heating can be incredibly convenient in rooms that are difficult to keep heated, such as basements.
If your radiator or baseboard heating is not providing the warmth you expect, call W.H. Winegar & Son Plumbing and Heating to swiftly repair your heating systems and get them working optimally once again.
Contact Us Today
If you are seeking some plumbing or heating repairs, replacements, or other solutions, look no further than W.H. Winegar & Son Plumbing and Heating to solve all your precarious problems effectively and efficiently. In fact, with decades worth of experience in the industry, our leading professionals are guaranteed to swiftly find epic solutions to all your plumbing and heating problems. Give us a call today to inquire about how we can help you!