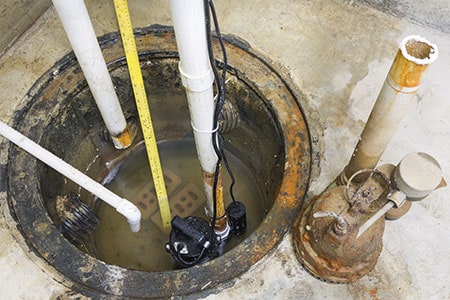 Sump pumps are a key component of your home. The proper installation of a sump pump can help you avoid disastrous home flooding and water damage. If you notice leaks in your sump pump, or it's time for a total replacement, you can call W.H. Winegar & Son Plumbing and Heating for efficient sump pump repairs and replacements.
Protect Your House with Professionally-Installed Sump Pumps
Sump pumps work by channeling groundwater, rainwater, and water from some appliances and placing it into a pump well, and discharging it to the outside of the house. Sump pumps are generally used to prevent flood damage from heavy rain and reduce the risk of mold and other water damage.
Sump pump replacements and repairs done by experienced professionals will ensure that your sump pump works as well as possible and you avoid expensive damage from flooding and leaks.
Ask us about installing battery backup sump pumps and water-powered backup sump pumps. These will protect you during power outages and when your primary pump fails. In those instances, the backup system will turn on and take over for water removal.
Contact Us Today
If you are seeking some plumbing or heating repairs, replacements, or other solutions, look no further than W.H. Winegar & Son Plumbing and Heating to solve all your precarious problems effectively and efficiently. In fact, with decades worth of experience in the industry, our leading professionals are guaranteed to swiftly find epic solutions to all your plumbing and heating problems. Give us a call today to inquire about how we can help you!